indulge in victorian luxury like no place else
Escape to a Better Place
Historic Inn, New Harmony, Indiana
Stay in exquisite Victorian luxury
Enjoy sensational in-home meals
indulge in victorian luxury like no place else
Historic Inn, New Harmony, Indiana
Stay in exquisite Victorian luxury
Enjoy sensational in-home meals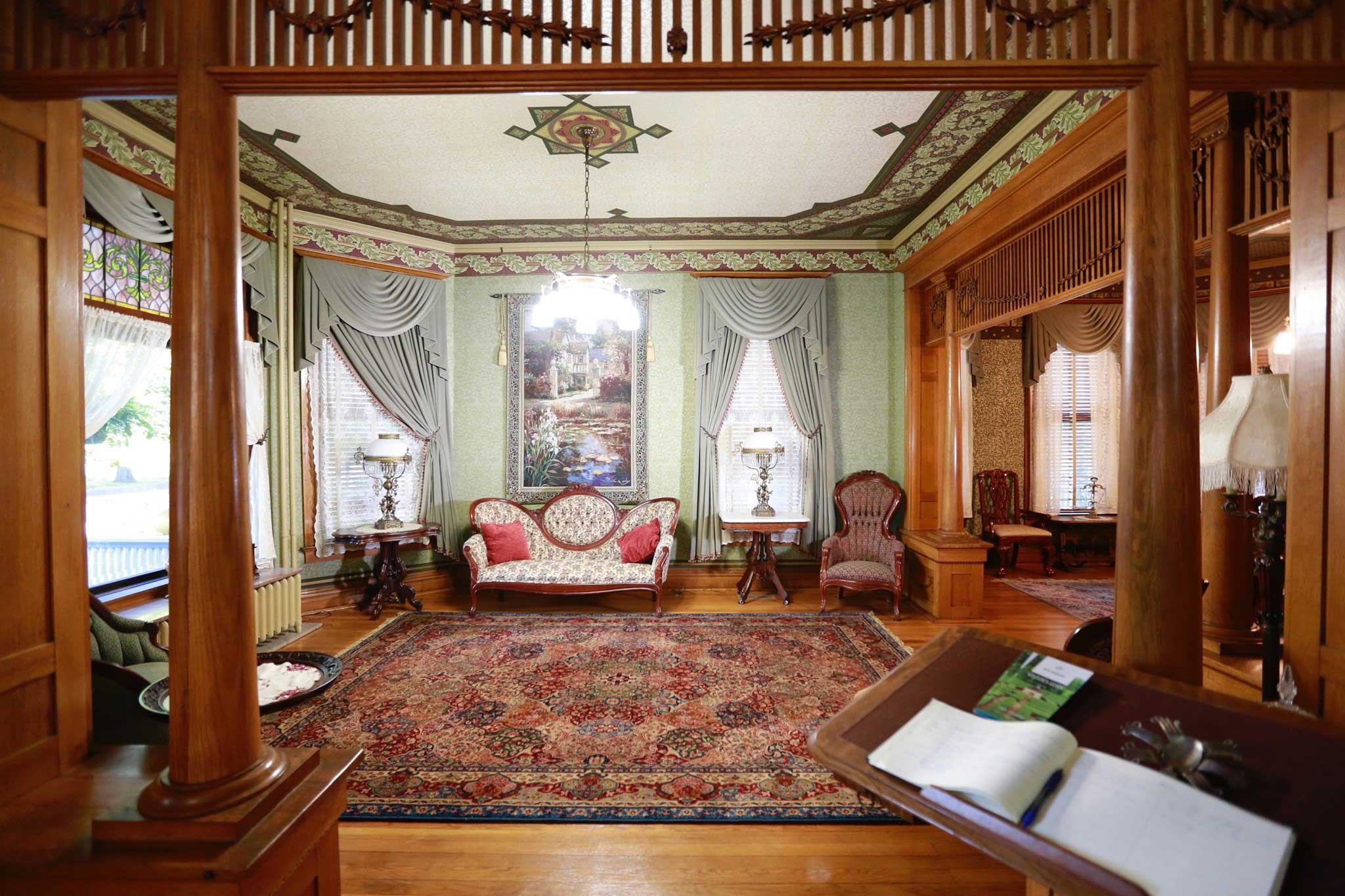 make your stay unforgettable
Immerse Yourself in Outstanding Victorian Beauty
Indulge in Victorian Luxury like no place else! Choose from seven different accommodation options in this meticulously restored and breathtakingly beautiful 1899 Queen Anne Victorian mansion.
Step into the past for a moment and recharge your soul in this this stunningly gorgeous historic mansion, while just an easy one block stroll away from shops, galleries, restaurants and parks in the charming, and exquisitely beautiful, peaceful village of New Harmony.
We look forward to help make your stay relaxing, enchanting and memorable.
choose from seven highly unique character rooms – each of unsurpassed beauty
Upstairs Luxury Loft Suite
The spacious Loft Suite with its 14 foot ceilings is flush with natural light, views over the park, and wonderful spaces to relax and recharge.
President Taft Room
The premier Victorian room of the house. Spacious layout, cozy king bed, luxurious linens, large antique bath and plush spa robes.
Princess Diana Room
Stunning and spacious room with an ornate ceiling. Newly remodeled modern ensuite with clawfoot bath and a separate shower unit.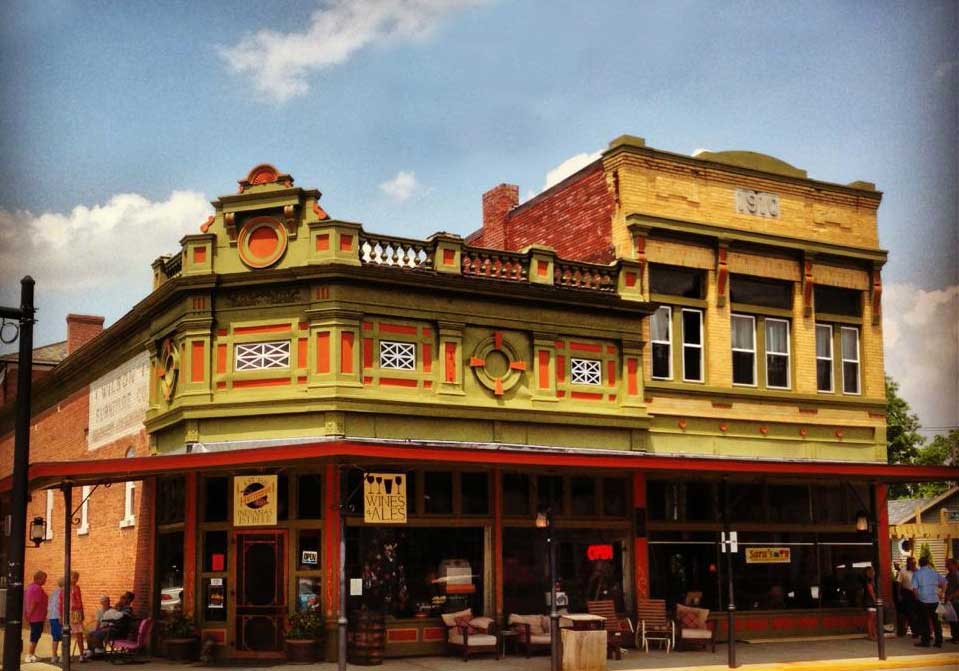 Exquisite Historic Town
Your experience does not stop at the front door – this town lives and breathes its unique historic character like no place else…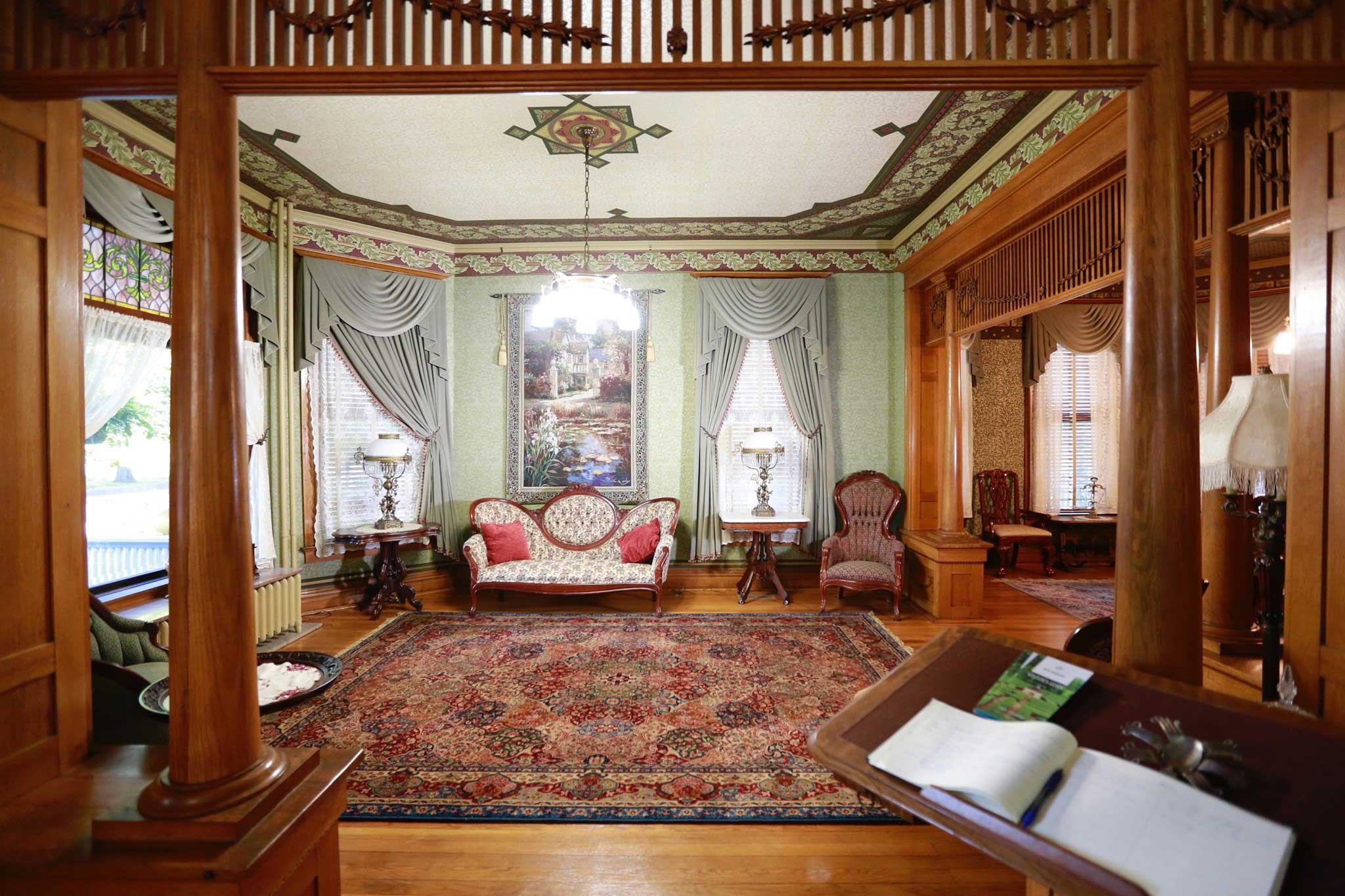 Period-perfect, Spacious Parlors
"To be able to sit and read in the Victorian living room in the evening was a real pleasure that I won't soon forget." Gennifer
Delicious Breakfast
For whole house bookings we pamper our guests with a specially prepared, beautifully presented meal each morning. We can accommodate all dietary requirements.
New Harmony, In.
Unbelievable, exquisite destination
Perfect History.
A uniquely cultivated location
Built by Utopians.
serenity and peacefulness
Let New Harmony find you.
History, nature, Christmas, antiques, architecture
Explore the House!
With this amazing 3D model you can virtually walk through the entire house and look at each and every room! (click on image to start your tour)
What you Get
Amenities, Services, & Travel Guide
Sooo Many Cool Things to Do in New Harmony, Indiana
Boredom will never be part of your adventure – you can't run out of intriguing things to do here. New Harmony can be described as a vacationer's paradise and a history-buff's delight. 
Not sure where to begin? Stop by our New Harmony Visitor Center, also known as the Atheneum, for ideas, including an expertly-led tour of our historic sites. 
Historic Town, Fantastic Sights
For aficionados of vintage structures, make time to explore our impressive period architecture. New Harmony features 12 buildings from the early nineteenth century and 20 properties from the mid-nineteenth century era. Highlights include our museum, library, art gallery and Thralls Opera House.
Not sure where to begin? Stop by our New Harmony Visitor Center, also known as the Atheneum, for ideas, including an expertly-led tour of our historic sites. Guided tours begin at the Atheneum Visitors Center, which is conveniently located at the west end of North Street.
Check out the offical town website list of things to do here
Events
Whether your visit to New Harmony is a family trip you've planned in advance or an impromptu "let's just jump in the car and go" type of getaway, there's always a great reason to come. Year-round, you'll find a roster of fun, engaging, and interesting New Harmony events.
View current calendar of events here
Art & Culture
This whole town breathes art & culture, and looks back on a long history informed and guided by high principles of aesthetic and ideals not easily matched anywhere else in the world. Find out more on the official town website 
Restaurants
The restaurants alone are reason enough to visit New Harmony. For a quick snack, a laid-back brunch, casual meal, or fine dining, our community offers something to satisfy every appetite. Click here to peruse the selection of places to eat in New Harmony, Indiana.
Escape And Get Married
Destination weddings and small event venue
Escape to Victorian Beauty
Immerse yourself in unparalleled Victorian luxury